Prepared by: Hope Malaysia Tertiary Online Connect 2021 Team
On 29th October 2021 – 7th November 2021, over 290 participants from across various states in Malaysia came together for Hope Malaysia Tertiary Online Connect 2021 (Connect21). The theme for this gathering was "Legacy" with the tagline "My Ceiling, Your Floor". Its goals are to connect the younger generation with the older generation and to impart the "God Factor" in all participants.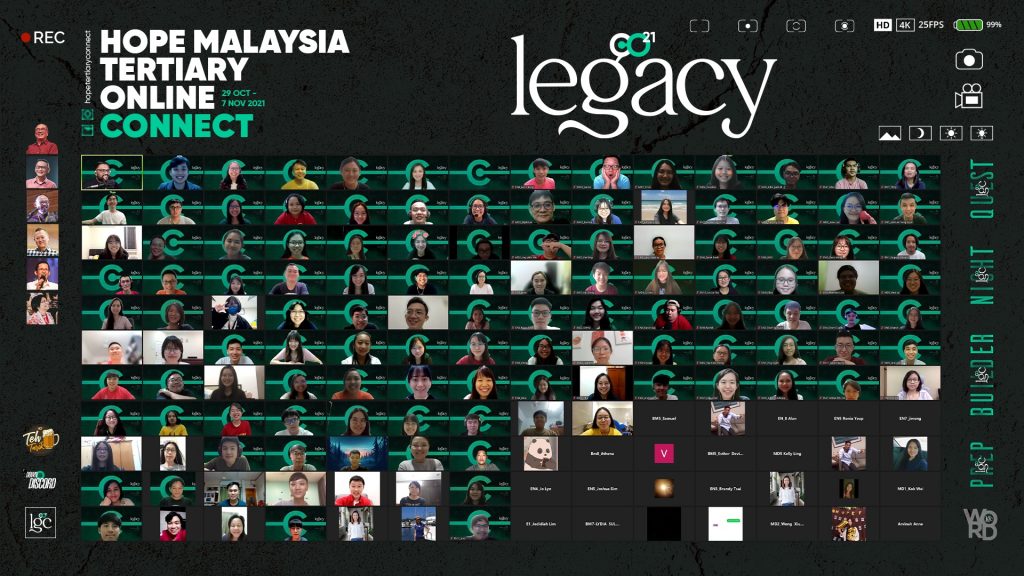 We were honoured to have Ps Simon Eng (HIM Elder and Regional Pastor for Asia 5), Ps Prakich Treetasayuth (HIM Regional Pastor for Europe 1), and Ps Denis Lu (HIM Elder and Regional Pastor for Asia 2) as our plenary guest speakers. All three speakers joined us live on Zoom to impart and minister to us.
During the opening of Legacy Night where the plenary sessions were hosted, the committee presented a tribute video to appreciate all the leaders especially Ps Simon who have blazed the trails for generations to follow. Ps Simon was then invited to share with us an insightful message on "Significance vs Success". We were reminded to use our gifts, talents, and position not to seek worldly gains but to extend God's fame.
"He said to them, "Then give back to Caesar what is Caesar's, and to God what is God's." " − Luke 20:25 –
On the following night, Ps Denis Lu spoke to us on "Generation to Generation". Just like Daniel, Shadrach, Meshach, and Abednego, we should choose to be outstanding, not to be diluted by the world, to never lower our standards, and stand for God. He reminded us that our God has remained the same throughout the generations, specialising in turning lives around, and transforming the bad news into good news as we continuously place our trust in Him.
"To these four young men God gave knowledge and understanding of all kinds of literature and learning. And Daniel could understand visions and dreams of all kinds." – Daniel 1:17 –
Ps Prakich Treetasayuth shared with us on "Crossing Over" on the final Legacy Night. As we walk in our vision with God, we are reminded to be assured that God is with us, be strong and courageous, and be careful to obey every word of God.
"Have I not commanded you? Be strong and courageous. Do not be frightened, and do not be dismayed, for the Lord your God is with you wherever you go." – Joshua 1:9 –
"Teh Tarik" sessions were conducted after the plenary sessions ended. It is a casual session for the participants to connect with the HIM pastors. All participants were given the opportunity to freely ask any questions via sli.do to the invited speakers. Throughout the two nights of "Teh Tarik" sessions, the closeness of the participants with the invited pastors was formed. Interacting with the pastors is a lot of fun, and hearing their untold tales inspires us.
Alongside the teachings and "Teh Tarik" sessions, participants were spoilt for choice with workshops held online on a variety of topics from many incredible speakers such as:
Great Commission Apologetics – Samuel Nesan from City Light Church, Malaysia
Who am I? – Ps Elijah Lai from Hope Johor Bahru
Mampukah aku teruskan? ("Am I able to go on?") – Moi Moi Liew from Hope Kota Kinabalu
How is your soul? – Sandy Lau from Hope Brisbane
Timothy in the 21st century – Ps Joshua from Hope Kampar
Making your next disciple – Sunita Pala and Suzanna Wong from Hope Brisbane
Purpose for me – Jacyline Khor from Hope Brisbane
Grab the opportunity now – Isaac Chong and Valerie Leong from Hope Kota Samarahan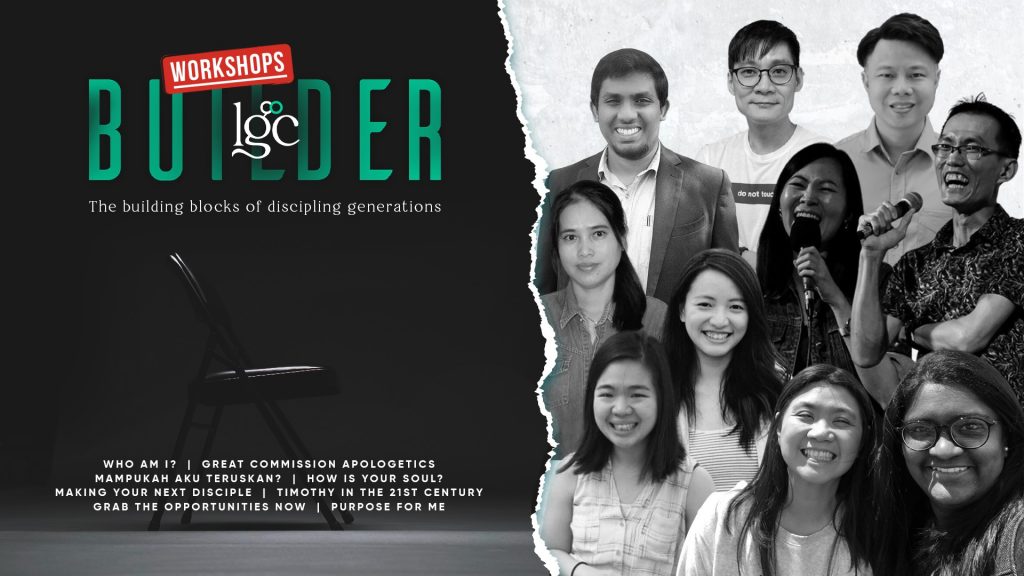 As we countdown in anticipation of the event, participants were invited to join in heart preparation as we prayed and sought God together. Pre-Connect devotionals were made available to them five days prior to the event. Also, different teams interceded for the event daily throughout the week. God's presence moved so mightily in the lives of many participants as they immersed themselves in worship and prayers led by various centers. Many lives were refreshed and restored.
Connect21 wasn't just about learning and hearing the Word of God. Many have built new friendships through fun activities and discussion sessions. For the fun activities, Legacy Quest was organized where the participants were to complete a list of tasks in their allocated group to gain points. The finale of Legacy Quest was a Virtual Escape Room challenge via gather.town. Participants were enthralled by the adventure while squeezing their brain juice to help one another to escape the dungeon. As for the discussion sessions, the participants were gathered in their discussion groups to share about what the Lord God has spoken to them after each session.
By the grace of God, we were able to have this amazing 1 week filled with joy, laughter, and tears, as God spoke to the hearts of many individuals and poured forth His presence. His love enabled us to now connect across the country without borders and barriers. Following the previous Connect in 2020, we saw the establishment of new friendships and deepening of fellowship among the brothers and sisters across the tertiary ministries of Hope Malaysia churches. We believe that God is working in the hearts of these young people and shaping their convictions. We also witnessed the incredible transformational work of God upon many lives through the testimonies shared by many participants on the Connect21 website (http://bit.ly/hmtconnect). He is raising a new generation that will continue the legacy to radiate His love and fight to bring hope to everywhere they go.
The conference then concluded with an appreciation of the Connect21 committees and volunteers who have poured much into serving God and His people, and with a shout of praise unto God.