by Jerry Foo, Hope Sandakan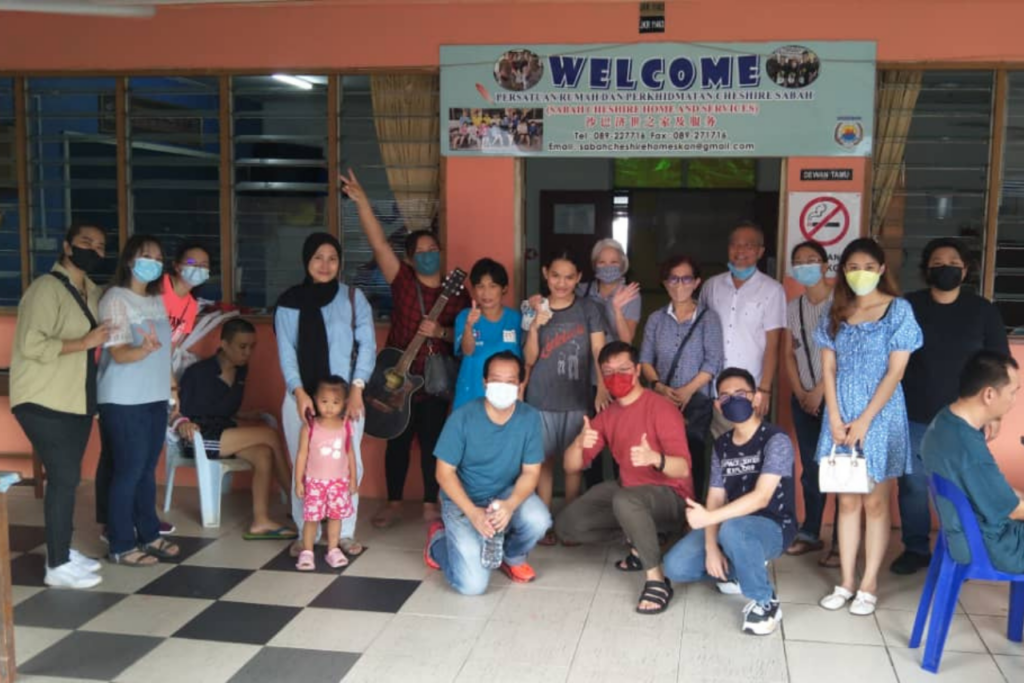 The idea of a local community outreach came about during a casual chit-chat between two sisters from Hope Sandakan. Aunty Nancy suggested our whole church visit Sandakan Cheshire Home. Most of our members had never visited this special needs community.
Cheshire Home was built in Sandakan on 8th April 2000. As the home grew, additional programs were established, including the Early Intervention Centre, providing residential care to individuals with disabilities. . Our leaders believed that it would be a valuable opportunity for our members to engage with the local community.
All of our members agreed to go, and we gathered on 26th March 2023. Before our visit, we held a pre-prayer session and briefed our members and guests, preparing them to step out of their comfort zones and learn how to connect with people who are different from us.
Upon arrival, we received a warm welcome from the staff. We split up to talk to both the staff and the special needs residents. Initially, we distributed packed drinks and cakes. After a few minutes, the staff introduced us to various residents. Some residents still had family members who would visit or bring them home during special occasions, while others were sadly abandoned without any contact information.
Among the residents of Cheshire Home, we encountered a few individuals who were physically restrained in their chairs. The staff explained that without restraints, they would either scratch themselves until they bled or risk getting lost if they wandered away. On the other hand, some residents who were freely walking around had been trained by the staff to assist with simple tasks such as cutting cakes or cooking meals for others.
While conversing with the staff and interacting with the residents, many of our members came to appreciate the compassionate hearts and patience displayed by the staff. During our visitation, the following verse from Colossians 3:12 resonated with us: "Therefore, as God's chosen people, holy and dearly loved, clothe yourselves with compassion, kindness, humility, gentleness, and patience."
After spending an hour there, we concluded the visit with a praise and worship song, offered prayers for the residents, and expressed gratitude to the staff for allowing us to visit. This visit to Cheshire Home provided our members with an eye-opening experience, raising awareness of the existence of special needs individuals in Sandakan.
Lastly, this visitation served as a reminder of our Heavenly Father's immense love for them. Despite their disabilities, He continues to care for them and meet their needs. As believers in Christ, let us hold onto the teachings of Matthew 6:25-34:
Therefore, I tell you, do not worry about your life, what you will eat or drink; or about your body, what you will wear. Is not life more than food, and the body more than clothes? Look at the birds of the air; they do not sow or reap or store away in barns, and yet your heavenly Father feeds them. Are you not much more valuable than they? Can any one of you by worrying add a single hour to your life? "And why do you worry about clothes? See how the flowers of the field grow. They do not labour or spin. Yet I tell you that not even Solomon in all his splendour was dressed like one of these. If that is how God clothes the grass of the field, which is here today and tomorrow is thrown into the fire, will he not much more clothe you—you of little faith? So do not worry, saying, 'What shall we eat?' or 'What shall we drink?' or 'What shall we wear?'  For the pagans run after all these things, and your heavenly Father knows that you need them.  But seek first his kingdom and his righteousness, and all these things will be given to you as well. Therefore do not worry about tomorrow, for tomorrow will worry about itself. Each day has enough trouble of its own."

Matthew 6:25-43